Everyone of us will at some point face giants in our lives. It could be family, work, education, relationship or health related, but part of being human is that giants will come and they will either scare us into submission and defeat or we would have to stand up and fight so we can live the life God wants for us.
Over the next five days we want to pray that God will give us the grace and wisdom to overcome giants in our lives and we are going to use the famous story from 1 Samuel 17 as the basis for our reflections and prayers.
It is a story we are all familiar with, but what lessons can we learn and apply to our prayer lives so that like David we can stand our ground and face the giants that come our way with the power of God's Holy Spirit
and become victorious like him.
Here are five truths we want to pray through this week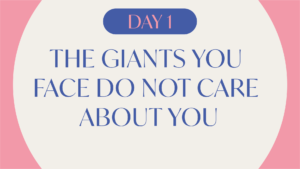 Have you ever heard people say things like 'why me' when something bad happens in their lives? The question is why not you or me? Life is full of battles we all need to fight and from a spiritual perspective the bible tells us that
Click to read »
DAILY PRAYER MEETING 19:00 - 20:00 | ONLINE